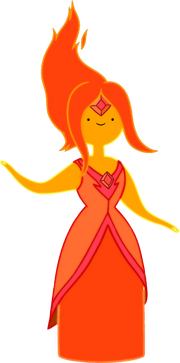 Flame Princess is the princess of the Fire Kingdom as well as Finn's new love interest and current girlfriend. When Jake asks Flambo if he knows any princesses Finn's age, he responds that he knows "just the skirt... and she's way hot." Flame Princess is locked in a lantern in the main chamber of the Fire Palace when Jake first encounters her.
Info:
Name: Flame Princess
Sex: Female
Age: 14
Occupation: Princess
Family: Flame King (father)
Personality
Edit
Flame Princess has a volatile personality; she usually has a calm demeanor, though with rather frequent tendencies to sudden and violent mood swings. She is described as "passionate" by Finn, "evil" by the Flame King, and "intense" by Pendleton Ward. The Flame King also remarks that she is difficult to control. She seems to be very sensitive and quick to judge. She is also prone to unprovoked fits of aggression, as shown when she throws fireballs at her citizens just for whispering. Flame Princess is also impressionable in a positive way. She is very happy when Finn calls her beautiful. She was also interested when Jake was giving her gifts in the episode Incendium and excited when her dad let her date "Prince Finn," though this excitement quickly turns to anger when "Prince Finn" rejects her.
Appearance
Edit
Flame Princess has long orange-red hair that is like fire and as such flows above her head. Her skin is yellow-orange and she usually wears a long, sleeveless dress that touches the ground. At first, she doesn't wear shoes, though her dress usually hides her feet from view. She has two diamond-shaped, red gems; one on her forehead and the other on the front of her dress. The red gem on her dress is shown to be a part of her dress and not her exemplified when Flame Princess had a different outfit on in "Ignition Point." She has black eyes that sparkle white and yellow in the light of her fire. Her arms are also portrayed as thicker than the majority of characters.